Behind the Magic
In Behind the Magic, you'll create a fantasy mockumentary by playing a group of incompetent adventurers on a quest to save the world.
Players take turns setting up and acting out scenes in character. These scenes are interspersed with reality-television style "confessionals" with the Bard who is documenting their journey.
Key Facts

Players: 4-7, no facilitator needed
Time: 2-3 Hours
Preparation: none, though one player should be familiar with the rules
Location: A single large space where players can move around and act out scenes
Materials needed: A printed copy of the rules, at least one chair, nametags (optional)
The game starts with ~30 minutes of setup where you select a quest, build the setting, and create your characters. Then you'll spend 60 - 90 minutes playing out the adventure and seeing if the heroes succeed... or at least don't make things worse.
The scenes themselves feel like structured improv, without an audience. Each scene has a question or tension embedded in it and players act it out until they're satisfied. Example: The party tries to calm down the mayor after accidentally burning down the town.
People are saying great things about the game:
Every time I've played Behind the Magic it has been the ideal combination of brilliant, stupid, and adorable. It feels like the perfect D&D session brought to life - a parade of calamity and failure with lots of heart. – Jason Morningstar
Even in alpha, this game made me laugh until I cried at several points. It's such a delight. – Anna Kreider
Randy's game "Behind the Magic" is some of the most fun I've ever had playing a LARP. – Jeeyon Shim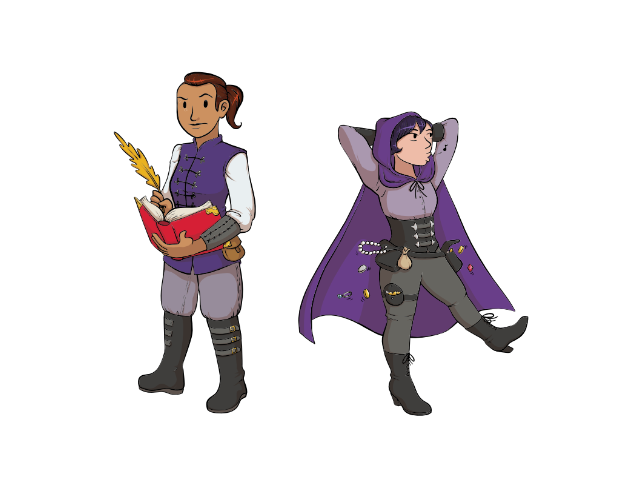 The rules are written for embodied play, walking around the room in character. However, there are variant rules for playing it at a table. The game has been playtested thoroughly with beginner and advanced storytellers and works well for players of all skill levels.

Purchase
In order to download this game you must purchase it at or above the minimum price of $10 USD. You will get access to the following files:
Behind The Magic PDF
6 MB
Community Copies (Economic Hardship)
Support this game at or above a special price point to receive something exclusive.
Community Copies (Economic Hardship)
If buying this game would be an economic hardship, you can claim one of these copies, no questions asked. I hope you enjoy it and share it with your friends!
If you help spread the word to other potential players, even better!